Renting a party bus makes your party unforgettable. Everything is well organized from start to finish. For example, a party bus can make your festival complete by bringing and collecting your entire group of friends in style, closing your wedding party or bachelor party in style, taking the whole company to an event in 1 (or more) party buses? Avoid hassle with trains, carpooling, waiting for latecomers, everything is perfectly arranged from start to finish with a party bus.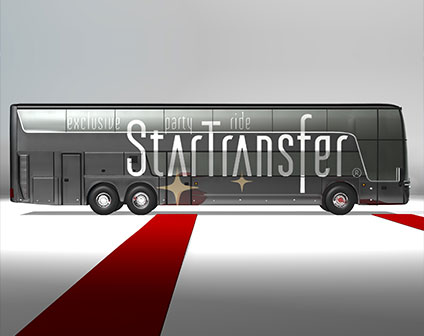 Party longer with a party bus.
Instead of crooked faces in the train if you want to have fun on the way there and back from a festival, you can also have a real party with a disco on wheels. This way your party starts well before you arrive at the festival, and you immediately have an afterparty during the ride back.
With a party bus you are always out and home together.
If you rent a party bus, you do not collect on location, but when you board the bus. This way the party not only starts earlier, you are all together immediately. No hassle with looking for people on a festival site, you all arrive at the party at the same time, and leave at the same time.
No annoying transfers, delays, or someone who has to stay sober.
If you rent a party bus, there is a BOB who will arrange everything from A to Z. So everyone in the group can party without limits. No parking hassles, no transfers by train, not a far walk, the party doesn't get any more unburdened than with a party bus.
A party bus from StarTransfer is just really cool.
With a luxurious interior and exterior, a DJ booth, chilled drinks, everything is there to travel in luxury. You don't just arrange your transport, you rent a party on wheels when you rent a party bus from StarTransfer.
Check out the rest of the StarTransfer website.
Check out some photos and videos from previous events.
Contact us via the form, email or telephone.
To arrange everything as quickly as possible, it is best to request a quote immediately.