Why hire party transport?
Complete your party with a party bus from StarTransfer!
StarTransfer's party transport can be used for festivals, weddings, bachelor parties, company outings, and of course much more.
No hassle with trains, BOBs, delays, long cycling, regulatory stress. Simply unburdened from start to finish so that everyone can join the party in our party transport.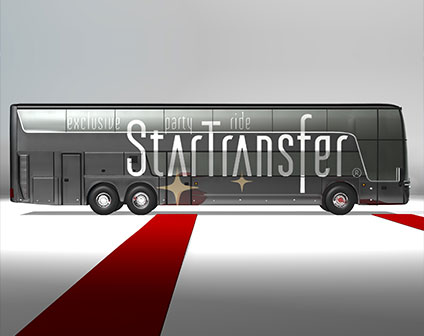 Longer party with party transport.
The party starts and ends on the bus. With StarTransfer's party transport, your party starts on the way there and only ends when you get off the party bus. With our discotheque on wheels we are building our own festival, with a great atmosphere, DJ and drinks. The only thing you have to arrange yourself is your nice group of friends.
With party transport you are always at home together.
No clumsy hassle with collecting at the 3rd sound mast from the chip shop on the right side of the mainstage! Just get on the bus together, on the grounds together, and back home together. So not only extra party, but also a lot of extra convenience with our party transport.
No one has to be a BOB, no transfers by train, and fewer delays than with the NS.
If you rent party transport from StarTransfer, you will be completely unburdened. This way everyone in the group can have a nice drink, and no one will look at you strangely if you want to put on some music on the train. Real party without worries.
The party buses from StarTransfer are just really cool.
With a luxurious interior and exterior, a real DJ set, party lighting in the bus, cooled drinks, a professional driver, it can only be a top ride. Not a boring ride, but a real party on wheels, for the whole group.
Don't have an event planned for which you need party transport? Gather your group of friends and we'll just drive around with your private disco on wheels. Everything is negotiable!
Check out the rest of the StarTransfer website.
Check out some photos and videos from previous events.
Contact us via the form, email or telephone.
To arrange everything as quickly as possible, it is best to request a quote immediately.